Who: Allie, Miranda, Sarah, and me
What: Backpacking
When: 5/23/14-5/25/14
Where: Desolation Wilderness
Mileage: 13.5
Elevation gain/loss: +1700ft/-1700ft
More photos: here
A different kind of trip for me—short distances, not much elevation gain, and a lot of great company. We headed out the Glen Alpine Trailhead with plans to visit Lake Aloha and come back down the Tamarack Trail by Lily Lake, but got stopped by too much snow. Miranda and Sarah hadn't backpacked all that much (lots of car camping though) and none of the three who accompanied me had really spent much time in the Sierra. I planned this introductory trip to maximize beauty and minimize effort, choosing Desolation Wilderness for its easy access to High Sierra scenery. Even though we didn't make it all the way as planned, I still think this trip achieved its goals!
Day 1
Glen Alpine Trailhead to Heather Lake
5 miles, +1400ft/-0ft
We had a much later start than what I'm used to. This is usually the case when coordinating a group of people, so I expected us to be running a bit slowly. I picked up Sarah at 6am and we were at the Pacific Ranger Station picking up our permits by 8:20am. Allie and Miranda were way behind, so we stopped to get breakfast at the Silver Fork Cafe in Kyburz. We loaded up with pigs in blankets, eggs, and coffee before heading over to Glen Alpine trailhead at the southwest end of Fallen Leaf Lake. About fifteen minutes later, Allie and Miranda showed up and sorted their stuff. We hit the trail at noon (!), but at least it was still pretty cool out.
The trail is a bit boring in the beginning, climbing an old road up to Glen Alpine springs, where there are some old buildings are arranged around a naturally carbonated spring. Continuing on, the road dies out and the trail begins in earnest, gently switching back over a rocky slope.
We get our first peek at the beauty that lies ahead: Jack's and Dick's peaks loom large and dappled with snowfields over their red metamorphic rock slopes.
About four miles in we reached Susie Lake and stopped for lunch.
Then it was time to continue on to Heather Lake. After walking the length of Susie Lake, we arrived at its outlet stream. There are at least three ways to cross here: walk across some semi-floating logs in a dam directly at the outlet, hop over some rocks below that, or shimmy across this log bridge.
After crossing Susie's outlet stream, we continued along the lake's southwest shore, bending around towards Heather Lake. Looking back northeast at Susie, Jack's peak dominates the view.
The trail passes a north-facing slope here on Susie's west shore and it was still quite covered in snow. Since we got such a late start, crossing this was miserable post-holing and sinking into hidden buried trees. It was steep in a couple of places and we were careful not to slip and have an unexpected dip in Susie Lake.
The sky was a bit dark off to the north, so we kept moving.
Soon, though, we met some hikers heading back to camp at Susie after not making it to Aloha due to too much snow. The trail around Heather Lake can be quite treacherous if it's snowy—it hugs a steep talus slope above the lake. We decided to head on and see how far we could get. We arrived at Heather Lake quite soon and found it to be about 30% frozen. The trail did indeed have some snowy patches, but they were small at first so we continued on.
We reached a pretty steep snowfield that ended in Heather Lake and Miranda, Allie, and Sarah waited at the edge of it while I crossed and scrambled over some talus to try to see what the conditions were like. After ten minutes, I came back and said I thought it would be best if we found a spot to camp where we were because the trail wasn't safe for inexperienced backpackers lacking trekking poles. We found a nice spot in the trees at Heather Lake and set up camp.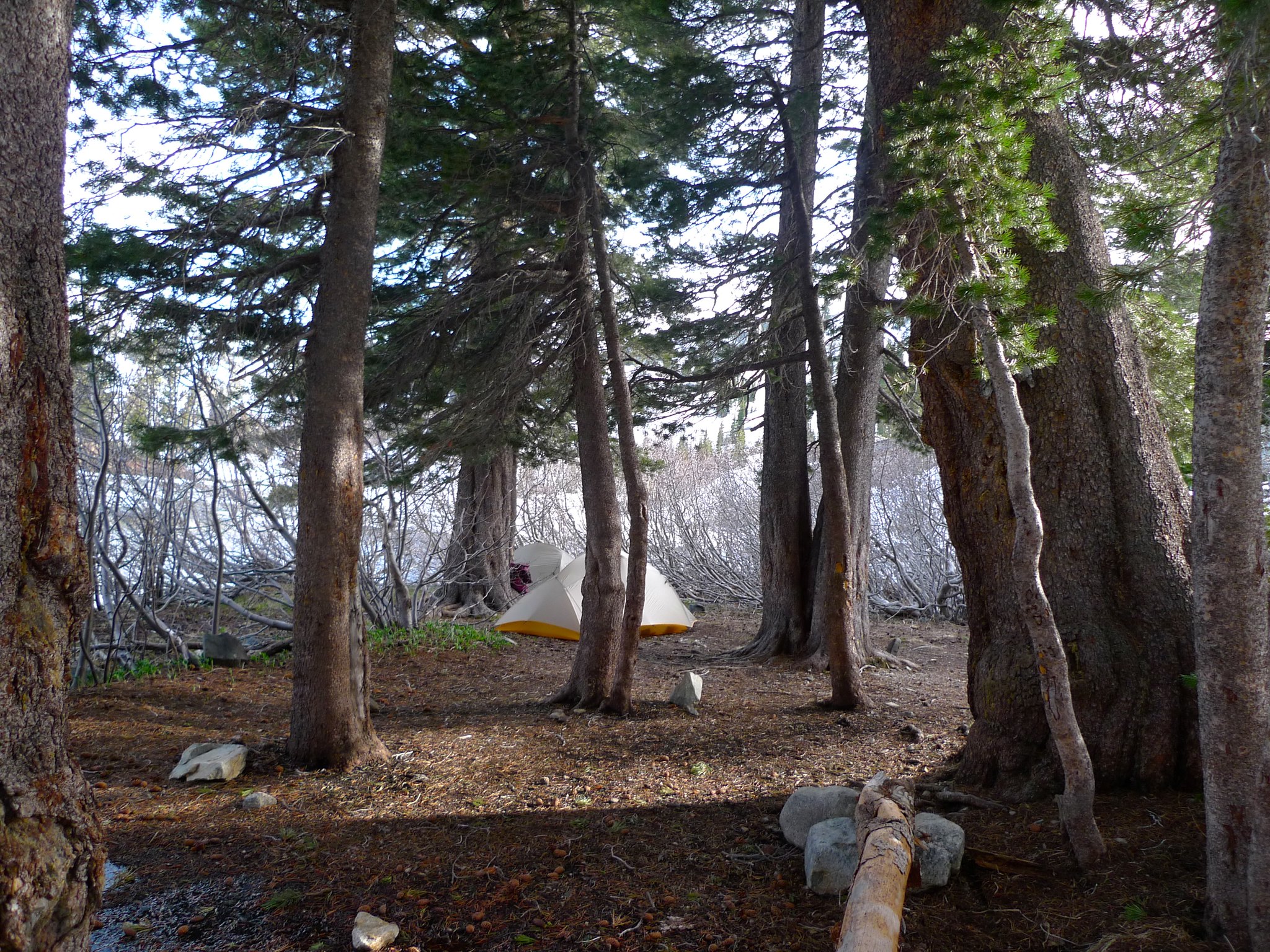 Someone had even built a little bench for us. We sat around and ate dinner. These three had brought luxury foods that I usually don't want to lug up the mountain. I shared some Easy Mac with bacon and they shared sausages with me. We finished the night with bourbon spiked hot cocoa.
Day 2
Heather Lake to Half Moon Lake
3 miles, +300ft/-100ft
The next morning I woke up early to watch the sun rise. Allie was already stirring and getting out of her tent and as we we started to head over to a spot with a view, Miranda popped out and joined us. The sunrise was glorious, painting the snowy Crystal Range in pinks and purples. The wind was still, so the reflections on Heather Lake were mirror-like.
As we packed up camp and put on our packs, I noticed that something had gnawed off one half of my sternum strap! I think this guy is definitely to blame. Grrrrrr marmots. Luckily, Allie had an extra head scarf that I tied across my shoulder straps to act in place of the sternum strap.
We left Heather Lake and headed back towards Susie. Miranda and Sarah would return to the car and Allie and I would head up to Half Moon Lake for another night in the backcountry.
We headed back across the snowfields on the west side of Susie and had a break and a snack before heading our separate ways.
Allie and I enjoyed an easy hike to Half Moon Lake.
The trail had nice views and Half Moon Lake itself is spectacular. It's set in a dark basin of metamorphic rock between Jack's Peak and Dick's Peak with one huge and two smaller waterfalls tumbling down from the last bits of the glacier that carved the basin.
The trail continues around the northern side of the lake, but upon reaching the lake we opted to head off trail along the south side and set up camp at a spot where we could view the basin from behind the lake. We found a beautiful spot nestled in some trees before the crossing of the lake's outlet stream.
We had hoped to head off trail to check out Alta Morris Lake, but some threatening dark clouds kept us close to camp. We puttered around camp and Allie read aloud about the local geology and flora. The view from inside the tent was fantastic (A lake at my doorstep and a waterfall across the lake? Don't mind if I do!), so we didn't really mind hanging around our cozy little home.
We shared some whiskey and chatted about the men in our life before turning in around dusk.
Day 3
Half Moon Lake to Glen Alpine Trailhead
5.5 miles, +0ft/-1600ft
I was zonked for some reason and didn't wake with the sun, but luckily Allie woke me up so we could catch some morning alpenglow on the gorgeous basin we'd called home for the last 18 hours.
We had breakfast (sausages grilled over an open gas flame) and snapped a few more photos as the east-facing basin flooded with morning light.
The weather was gorgeous and it was early still, so we decided to head over to Alta Morris Lake. We spent quite some time almost doing stupid things at the crossing of the outlet stream of Half Moon Lake before finally giving in and fording it where it was safe.
We made our way to Alta Morris and were slightly surprised to find it still frozen since it's at the same elevation as Half Moon. I guess size does make a big difference.
But then it was time to turn back and pack up camp. We headed back down the trail to the Glen Alpine Trailhead and were on the road by 1:30pm.
Want to do this trip yourself? Desolation Wilderness is a heavily used area and you will need a permit for your overnight stay. You can reserve one in advance or try for a walk-in at the Pacific Ranger Station or the Taylor Creek Visitor Center. Download the Fallen Leaf Lake USGS quad or pick up the Tom Harrison Desolation Wilderness topo.